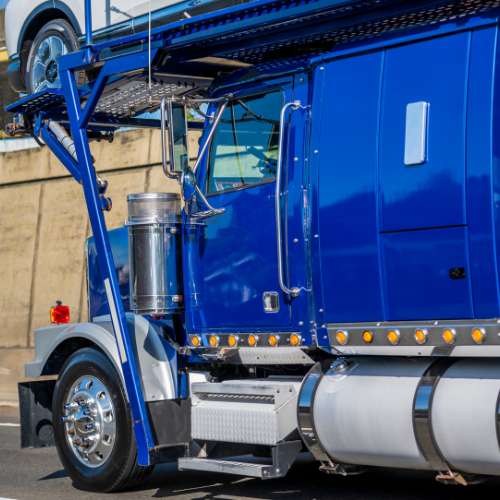 Think your dealership doesn't need to know the basics about DOT car hauler regulations? Think it only impacts vehicle transport companies and not your retail automotive store? Think again.
The Department of Transportation (DOT) and the Federal Motor Carrier Safety Administration (FMCSA) have set forth a series of regulations that car haulers must adhere to. These regulations are designed to ensure the safety of both the drivers and the general public, as well as the vehicles that are being transported.
It's easy to just assume that the driver picking up your vehicle for transport is abiding by all of the rules, but if you don't know what the rules are, you won't know what to ask. To help, Autosled has put together a quick overview of the most important DOT regulations for car haulers that every dealer should be aware of.
Insurance Requirements
According to the DOT, all car haulers are required to carry a minimum of $750,000 in liability insurance coverage. Autosled requires its transporter network to carry cargo insurance to go along with a comprehensive umbrella policy to ensure that any damages can be adequately covered in the event of an accident. This requirement provides Autosled's dealer customers with an extra degree of legitimacy during the carrier's vetting process and far supersedes the DOT's basic coverage requirements.
Even with the basics met, car haulers need various additional types of insurance policies including: commercial vehicle liability, non-trucking liability, and physical damage insurance for both the trailer and truck.
Licensing Requirements
Every vehicle operator driving either open or enclosed transports must possess a valid Commercial Driver's License (CDL) issued by the state's DMV. Drivers are also required to pass annual medical exams to maintain this license status. Depending on the type of car hauling, a Class A CDL may be necessary, which is specifically designed for drivers of heavy, oblong commercial vehicles.
Hours of Service
The DOT mandates that haulers cannot exceed 11 hours behind the wheel in a single day. During the workweek, the total drive time cannot exceed 60 hours. These regulations are in place to ensure that drivers get adequate rest and are not fatigued while operating heavy machinery.
Given that unforeseen traffic delays do happen, this may impact pickup and delivery schedules for your vehicles. If a driver is delayed in transit and reaches the eleven hour maximum before he or she gets to your dealership, the pickup date and time for any vehicles on your lot would then shift to the next morning.
Vehicle Specifications
The DOT has strict height and weight regulations for all car haulers. The maximum width limit is 8.5 feet, and the total gross load cannot exceed 80,000 pounds. No single wheel axle should carry more than 20,000 pounds. These regulations are in place to ensure the safety of drivers and other motorists on the road.
This is why it's important to know, up front, the exact make and model detail of every vehicle that requests shipment through Autosled. Transporters can pick up additional loads on their routes, and are encouraged to do so to prevent deadheading. That said, they must always know the total weight that they are carrying so as to not be in violation of DOT regulations.
Compliance and Penalties
Drivers are required to stop at designated weigh stations along their route to ensure compliance with weight regulations. Failure to comply with these regulations can result in penalties, which could potentially be passed on to the customer.
While complying with DOT regulations is the job of the car haulers, understanding these regulations is crucial for the safety and efficiency of everyone involved in the vehicle transport process. Failure to adhere to these regulations can result in severe penalties, some of which can be passed on to the dealership, not to mention possibly jeopardizing the safety of both drivers and the public. For more information, you can visit the FMCSA website and DOT Regulations for Car Haulers.
---
Check out our latest articles: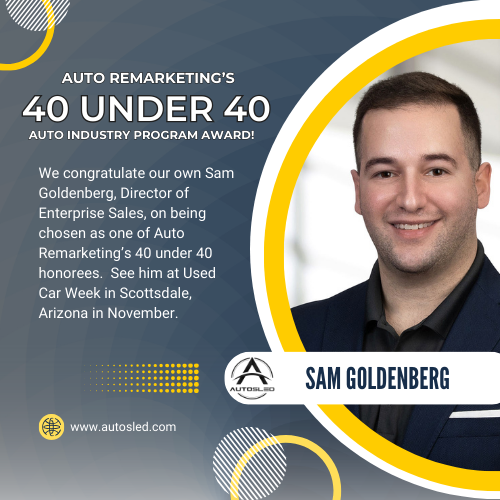 Nominated By Multiple Automotive Dealers, Selection Is Autosled's First
ROCKVILLE, MD – October 04, 2023– Autosled, a leading provider of automotive digital technology solutions for vehicle transport logistics, announced today that Sam Goldenberg, Director of Enterprise Sales, has been chosen as one of Auto Remarketing's "40 under 40: Industry" honorees. Sponsored by IAA, the program focuses on up-and-coming leaders representing consignors, auctions, automotive finance companies, technology venders, associations and others within the used-car space. This is the first 40 under 40 nomination, and selection, for both Sam Goldenberg and Autosled.
"Sam's approach to client relations goes far beyond customer service and day to day correspondence. He treats his dealers like family- plain and simple," noted David Sperau, co-founder and chief revenue officer for Autosled. "I'm not surprised at all by his selection in the 40 under 40, because dealers consistently praise the way that he has helped them elevate their operations. It's well-deserved."
Auto Remarketing's 40 under 40 program is unique in that all industry honorees are selected from a group of nominations put forth by the retail automotive dealer community.
"It is an honor to be selected for this year's 40 under 40, especially because it came from our dealer partners," said Sam Goldenberg, director of enterprise sales for Autosled. "I believe that customer service can be a company's biggest differentiator. It's great to know that the dealers recognize those efforts. I am truly privileged to have the opportunity to work with so many great leaders in our industry."
Sam is recognized in the October issue of Auto Remarketing magazine, along with the rest of 2023's industry honorees. Additionally, he will be celebrated alongside the rest of this year's honorees during Used Car Week, held on November 6-9, 2023 at the Westin Kierland Resort in Scottsdale, Arizona.
About Autosled
Autosled provides seamless digital vehicle shipment options for dealers, transporters, auctioneers, brokers, and individuals. As a tech first company, Autosled's web and phone platforms create a marketplace between shippers and transporters that are faster, cheaper and more reliable. Services include custom price quotes, secure online payments, electronic accounting and invoicing, online vehicle shipment scheduling, verified transporter insurance and a vetted network. Vehicles delivered through Autosled are trackable, with real-time GPS and communication with transporters throughout the process. For more information, visit: www.autosled.com.
###
For Media Inquiries, contact:
Peyton Hoffman
CP Consulting Group
(757) 748-4533 (cell)