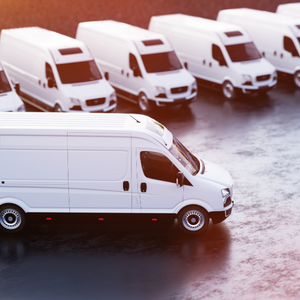 Michael Buerger – February 8, 2023
Fleet vehicles, such as vans, SUVs, trucks or cars used by organizations nationwide, are the machines that literally keep companies running. From local handymen to national telecommunication conglomerates, businesses rely on their fleet vehicles to transport both workers and materials wherever they need to go. If you're a business owner, how exactly do you get your vehicles where they need to go? Shipping trucks to different locations is the cost of doing business, but that cost becomes bloated when mismanaged. Fortunately, finding a reliable and cost-saving transport system today is easier to attain than it used to be.
Fleet transport needs
If you have a handful of trucks that need to be moved each year, manually arranging and overseeing their shipments is probably something your staff can handle. When the number of trucks approaches hundreds or thousands, however, coordinating and overseeing their transport becomes a monumental task. The most obvious factors to consider when transporting any number of fleet vehicles is to make sure those vehicles get from A to B not only reliably but at an affordable cost. While these items carry assumed importance, both can be difficult to measure.
Reliability is subjective. You (along with your leadership staff) are the only ones who can truly decide the range of reliability that is not only appropriate, but acceptable, for your operations. Are you being provided with ETA's that are reasonably met? Can you track your shipment status? How long are your vehicles sitting, waiting for pickup? Are you looking at days or weeks? Will any significant vehicle downtime delay operations and, if so, at what cost? If you felt uncomfortable answering these questions, there's most likely room for improvement.
Cost is less subjective, but still difficult to get an accurate feel for. Auto transport prices are dependent on a number of factors – locations, demand, seasonal variation, labor market and diesel fuel prices to name a few. This results in a continuously fluctuating market. Keeping a finger on the pulse of these changes can quickly become a full-time job. Obtaining a pricing model that is affordable and importantly, consistent, goes a long way towards the long-term sustainability of your logistics approach.
Management techniques
Approaches to logistics management vary depending on the needs and scale of each individual business. Small operations with predictable vehicle shipping patterns ideally will find "a guy" or a trucking company to deal with directly when the need arises. Unfortunately, 90% of trucking companies in the United States operate six trucks or less- all of which need to be constantly operating to turn a profit. A single transportation company simply cannot handle the transport demands for mass quantities of vehicles in a timely manner.
Companies with large fleet transport needs only have two options- use a third party or build in-house. Partnering with a third party fleet transporter generally means using a "broker". Brokers facilitate the deals between the customers and actual car-haulers. They're quicker and more convenient to deal with than carriers because they don't actually operate their own trucks. Instead, choose to contract various independent trucking companies- allowing them to tap into the dispatchable capacity of hundreds or thousands of trucks. While brokers are required to be licensed and insured, their capabilities, reliability and effectiveness vary wildly and often go only as far as the carriers they use. And it goes without saying that using a middleman adds additional cost to each move.
Building an internal process to handle these shipments cuts out the middleman while increasing the likelihood of more direct control. If the organizational demand for transportation is not overwhelming, fleet managers can deal with car carriers that they know. They can also work through load boards to fill in any gaps. While this avoids mark-ups, there are still underlying costs. Scheduling and tracking an average move takes 10-15 phone calls. Cutting checks, getting approval, correcting errors, and mailing paperwork takes time and material resources. Even with all of this, it still results in a murky cash-flow picture. Collecting W-9's, validating insurance, and making insurance claims when an incident occurs can go overlooked. When the scope of work becomes too great for a single person to handle, hiring and staffing becomes a built-in logistics cost.
Modern transport platforms
In general, auto transport has largely been doing business the same way for decades. Now, the digital revolution has caught up and created a new logistics management pathway. Digital transport platforms combine the flexibility of using a broker with the hands-on control that an in-house department provides. Autosled (autosled.com) is an example of one such modern transport platform. These platforms leverage mobile technology, networks of independent logistic companies, and proprietary software to provide transport management solutions at scale.
Digital platforms can empower a single individual to easily manage logistics for an enterprise business. The value add is not something that traditional third parties or internal departments are capable of providing. Must haves such as single source bill pay, GPS tracking, automated insurance validation, digital condition reports and bill of ladings, and data analysis are all built directly into the platform. Instead of relying on spreadsheets, the entire transport record is kept all in one place.
The promise of instant transformation from chaos to order in the complex world of logistics admittedly sounds too good to be true. Fleet managers and decision makers that are bombarded with sales pitches will, understandably, be apprehensive. Here is what to keep in mind when considering a switch- the auto transport business has largely avoided digitization until now. Many trucking companies still use pen and paper documentation even today. The industry is watching 25+ years of technological advances suddenly focus on improving the car hauling processes. It may be time to see for yourself how much these new transport must haves matter for your business.
Autosled is a leading digital auto transport platform. There are no subscriptions or setup fees. Using the web-based dashboard, you can easily ship and track a few, or a few hundred vehicles. Schedule a free demo to have the business development team show you how to go digital or to speak about the specific needs of your business. Schedule here.